Cleaning up after builders? Call our Waste Clearance team for support
The mess left behind by builders can be quite difficult to clear in one fell swoop and some businesses lack the tools, the transport and the manpower to really get down to the hard work involved in intensive rubbish clearance at their premises. If you have had builders in at your home, they may fail to clean everything up to the standard that you expect and this can make things difficult for you. There is no need for any company to by hampered by leftover building material and your home doesn't have to play host to dust, debris and muck left behind by building contractors – there is one quick, easy and very cheap way of getting it all sorted out.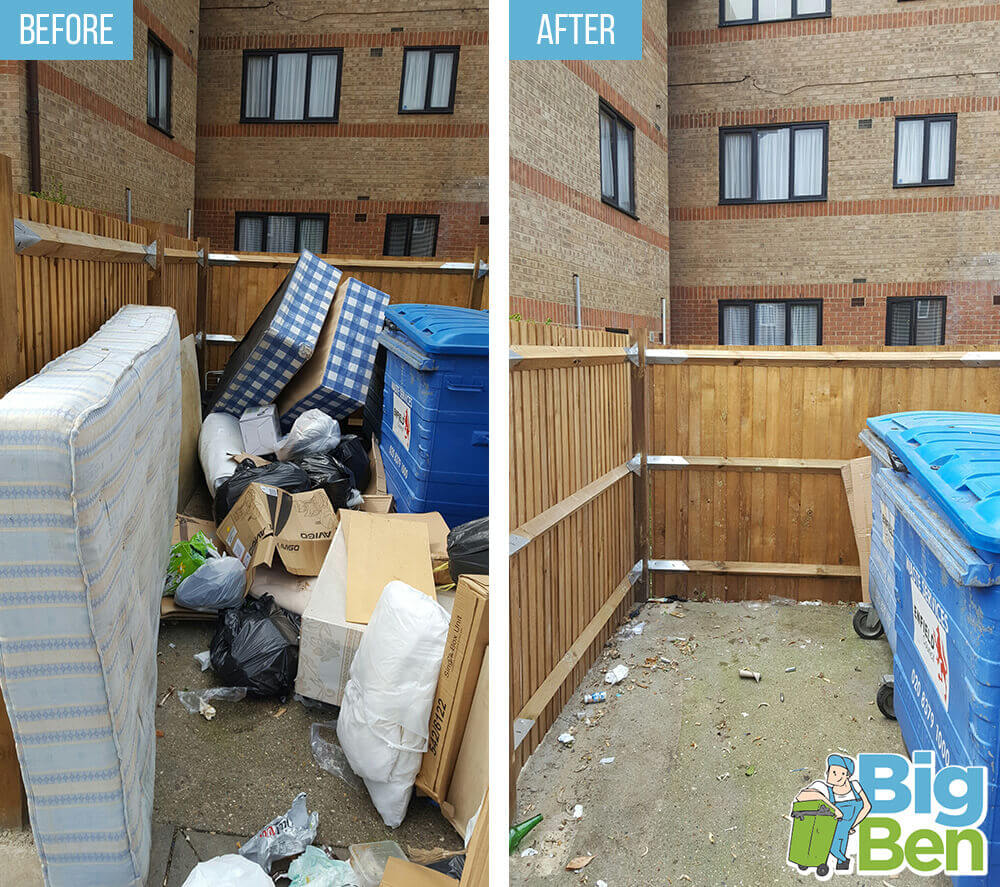 Big Ben delivers business and individual customers a very high standard
Big Ben delivers business and individual customers a very high standard of rubbish clearance and after builders waste removal that excels in every department and rivals any clearance company in pricing and convenience. If you would like a free quote for our junk removal service call us today on 020 3743 8686 and we will tell you over the telephone how little it could cost you to have your business premises or your home restored to its best.
Our workers know all the tricks of the trade
Our workers know all the tricks of the trade when it comes to building contractors which means that we are highly effective at locating debris and matter that has been abandoned by builders. We can use our clearance skills to detect the whereabouts of unwanted debris and have it properly removed and disposed of in the correct manner. Our company's ethos is to dispose of rubbish in a way that poses no threat to the wider environment and we deliver material to recycling plants every time that we take on a home clearance or commercial clearance task for any customer.
If you call us on 020 3743 8686 and give us an idea of the extent of the mess that we will be clearing we can make our services more efficient for you. Rather than have us turn up and then spend hours waiting for a cleaner for instance, or having to come back on a different day with a forklift truck of sorts, we can bring everything we need on the day you need us to turn up and confine our services to one relatively painful visit. Our clearance company likes to make builders waste clearance services accessible and affordable for customers and you could benefit from this if you are able to give us a good idea of the extent of the debris we will make sure that you aren't paying for unnecessary staffing or vehicles.
We are available on almost any day of the year
We are available on almost any day of the year at more or less any time and don't follow a strict trading hours pattern. Contact us on
020 3743 8686
if you would like to know our times of availability in the near future. Our staff are very flexible in their timings and this enables us to come to you on an emergency basis if say you need to get your site cleaned up that very day for a site inspection and that's why we are one of the most accessible clearance companies in the whole of the region.
Big Ben's property clearance services are so well regarded that we deal with all manner of building companies to help them clear up after a particularly heavy duty building job. If your building company wants to leave a good impression or needs help in dealing with building waste then contact us today on 020 3743 8686 and we will assist you gladly.


Our Testimonials
I did my research into Big Ben and it was clear to see why they're the number one firm for builders waste disposal in and around . Of course, I hired them and received just the service I was after.
Builders waste disposal was made easy for me thanks to this company. I found myself thanking my lucky stars that they operate.
I got a quote from Big Ben regarding my builders waste disposal job and was just blown away. I'd reached out to other companies too and the other firms were looking to charge me a lot more.
I hired them based on their ethical builders waste disposal practices. I urge others looking to get rid of junk to do the same.
Show all