Quick and Easy Rubbish Clearance on any day of the week…
Big Ben is able to offer home owners and tenants a very attractive alternative to spending your weekends toing and froing from the refuse centre, or the recycling bins at your local park. Our company offers a very affordable and convenient house clearance service which you can book with one quick phone call to us on 020 3743 8686.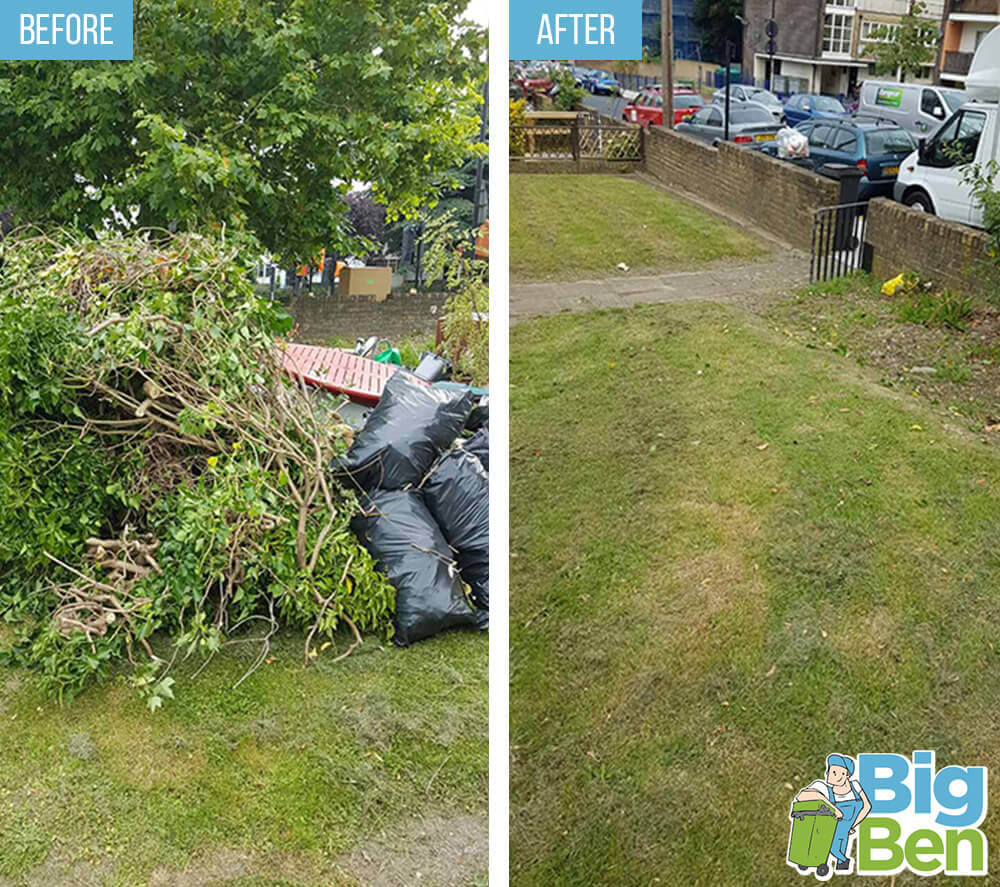 We all have to clear out unwanted furniture
We all have to clear out unwanted furniture, rusty garden chairs, boxes and old clothes from time to time and if you don't have transport suitable for delivering major loads to the local tip, you may have to hire a van or make several trips, which is very inconvenient and frustrating for people. Our company can come to you with the transport and the workers to take the rubbish off your hands and deal with it properly at the other end.
Our house clearing professionals know all about recycling and it is a key part of our clearance services. We don't just throw things into skips – if something is recyclable then we will ensure it gets taken to the proper place. This is at no extra cost to you, nor will it affect the speed of our work. Our home clearance services are very efficient and can be delivered in the time that you need it doing. If you contact 020 3743 8686 and speak to our sales team we'll make sure that our house clearance company can work around you and your own deadlines and time constraints, which is why so many people like to use our home clearance services!
We don't just help you get rid of unwanted items either – if you are building a property and need to remove builders' waste or debris our specialist waste removal team have the equipment and the skills to do this for you. We can also deal with a full property clearance or flat clearance if you have unfortunately suffered a bereavement and need to have old house contents and unwanted items recycled, sold or donated to charity stores and our house clearance professionals can assist with all of that.
Taking your instructions as gospel and working in the time that you require
Taking your instructions as gospel and working in the time that you require, Big Ben offers one of the best and most useful clearance services to home owners, landlords, tenants, executors of wills and banks and building societies needing to deal quickly with home clearance services. Our domestic clearance staff work a flexible rota gives us the ability to come to you at short notice, outside the normal hours of work where needed and in the time that you want us to and the pace at which we provide our home clearance services is quite amazing.
If you want a free quote or need any more information
If you want a free quote or need any more information about our property clearances then please do not hesitate to give us a call on 020 3743 8686 and let us know what it is that you need. We can take care of everything from start to end including the transport, the breaking up of boxes and furniture items, loading and unloading, deliveries to the destination items need to be deposited at and the clearing up afterwards, as you don't want to be left with dirt and detritus to sort out after we have gone.
Our house clearance service could not be any more useful for you and if you want to book us, we have a lot of availability – call us today on 020 3743 8686 to find out more and we will happily run through the many options available to you.
Our Testimonials
The house clearance dudes in the business. I hesitate to even consider how miserable we all would have been if we had taken time off ourselves to remove the barrels and crates from our warehouse. Thank you.
What's special about these guys, is that they do their best to not damage the space they're working on! We've had them come to our property many times to help us with house clearance, and each and every time, it's perfect.
Big Ben's waste clearance team both met and exceeded our expectations with the house clearance. They even used specialised rubbish clearance equipment, which surprised us! They were careful to not disturb the surrounding areas and left our residence better than when they found it!
They are so thorough, much more so than our past house clearance company. Their waste collectors were quick on their feet and had the junk off and away in just a few, short hours.
The best house clearance! Affordable rates as well; highly recommend.
They are a joy to work with, never complain and always on time. Their house clearance staff are true to their word and handle even the heaviest and bulky items with ease.
Dorothy Matten
12/11/2019
Their house clearance team arrived on time and proceeded to unravel the knot of clutter we accumulated over the years. We had it so tightly packed, that when they unravelled it, it was a huge load. Very grateful that when they were finished with the rubbish clearance, our loft was emptied!
Mona Blackburn
12/02/2020
5 Star rubbish removal at our house. They did their absolute best to rid our home of useless items.
Their house clearance came and did a fabulous loft clearance for us! We, are so enamoured with their waste removal team, that we heartily recommend them to you all!
Big Ben did a fabulous house clearance for us. They quickly removed the electric appliances and the old kitchen furniture. When their rubbish removal collectors left, you could not even tell that there was anything in the kitchen at all!