Quick and Easy Rubbish Clearance on any day of the week…
Big Ben is able to offer home owners and tenants a very attractive alternative to spending your weekends toing and froing from the refuse centre, or the recycling bins at your local park. Our company offers a very affordable and convenient house clearance service which you can book with one quick phone call to us on 020 3743 8686.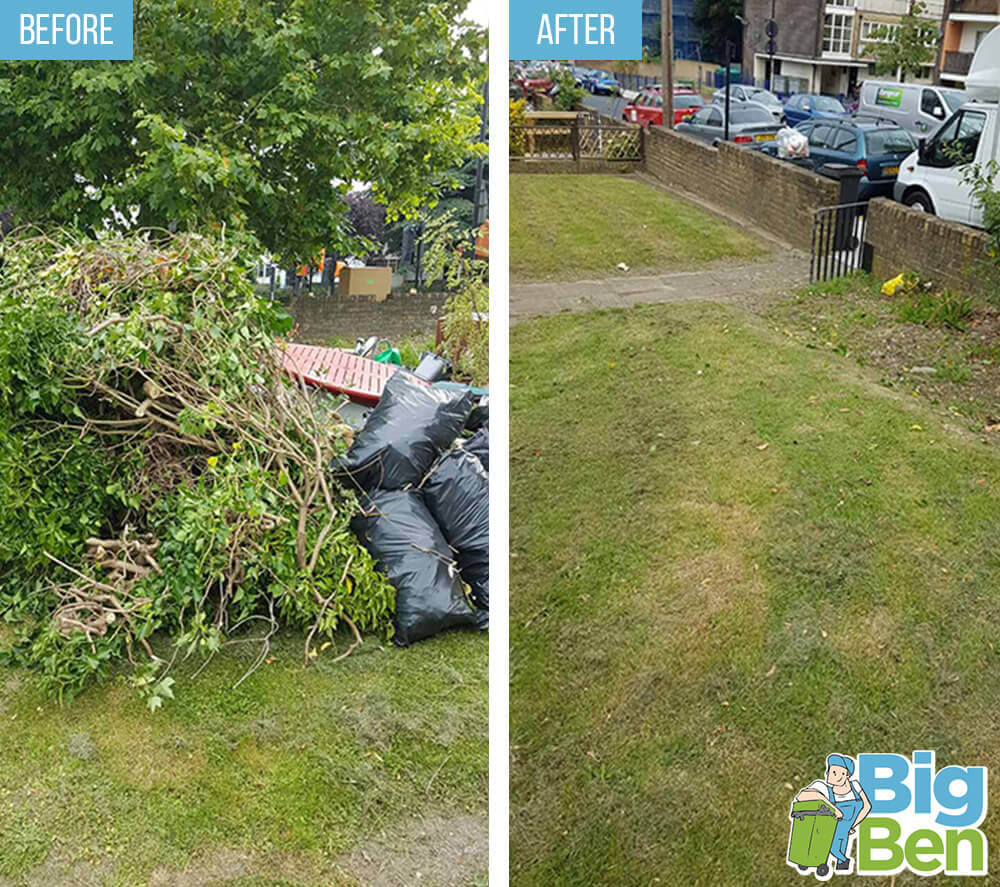 We all have to clear out unwanted furniture
We all have to clear out unwanted furniture, rusty garden chairs, boxes and old clothes from time to time and if you don't have transport suitable for delivering major loads to the local tip, you may have to hire a van or make several trips, which is very inconvenient and frustrating for people. Our company can come to you with the transport and the workers to take the rubbish off your hands and deal with it properly at the other end.
Our house clearing professionals know all about recycling and it is a key part of our clearance services. We don't just throw things into skips – if something is recyclable then we will ensure it gets taken to the proper place. This is at no extra cost to you, nor will it affect the speed of our work. Our home clearance services are very efficient and can be delivered in the time that you need it doing. If you contact 020 3743 8686 and speak to our sales team we'll make sure that our house clearance company can work around you and your own deadlines and time constraints, which is why so many people like to use our home clearance services!
We don't just help you get rid of unwanted items either – if you are building a property and need to remove builders' waste or debris our specialist waste removal team have the equipment and the skills to do this for you. We can also deal with a full property clearance or flat clearance if you have unfortunately suffered a bereavement and need to have old house contents and unwanted items recycled, sold or donated to charity stores and our house clearance professionals can assist with all of that.
Taking your instructions as gospel and working in the time that you require
Taking your instructions as gospel and working in the time that you require, Big Ben offers one of the best and most useful clearance services to home owners, landlords, tenants, executors of wills and banks and building societies needing to deal quickly with home clearance services. Our domestic clearance staff work a flexible rota gives us the ability to come to you at short notice, outside the normal hours of work where needed and in the time that you want us to and the pace at which we provide our home clearance services is quite amazing.
If you want a free quote or need any more information
If you want a free quote or need any more information about our property clearances then please do not hesitate to give us a call on 020 3743 8686 and let us know what it is that you need. We can take care of everything from start to end including the transport, the breaking up of boxes and furniture items, loading and unloading, deliveries to the destination items need to be deposited at and the clearing up afterwards, as you don't want to be left with dirt and detritus to sort out after we have gone.
Our house clearance service could not be any more useful for you and if you want to book us, we have a lot of availability – call us today on 020 3743 8686 to find out more and we will happily run through the many options available to you.
Our Testimonials
Being able to hire this company for rubbish clearance whenever I've been in need and knowing they can carry out speedy collections, has benefitted me immensely. I've hired them a number of times. They've never been unavailable, and have never disappointed.
I didn't have the means to load everything into a vehicle and take it all to be disposed of. Thankfully, the alternative, hiring this firm for rubbish clearance, wasn't nearly as pricy as I thought it'd be.
I was after an on-demand rubbish clearance service. I did my research and found that this company was able to accommodate my needs. They took everything away for a very good price too.
It was the first time I'd used this firm for rubbish clearance. It was the fuss-free, cheap service I wanted. I'll be keeping their details handy for future use.
Show all