Where to go for Waste Removal Services?
When you are placed in the somewhat unfortunate position of having to engage professional clearing services to get rid of waste and mess in a number of forms, it can be very inconvenient and rather stressful to organise. However there are some very useful companies out there who offer affordable and very user-friendly solutions to the problem of excess site waste and rubbish. Our rubbish removal services are very reliable and can be brought in on the same day that you pick up the phone and dial 020 3743 8686 – we work a flexible rota and have a number of very trained waste removal specialists who can deal with mess and rubbish in any form.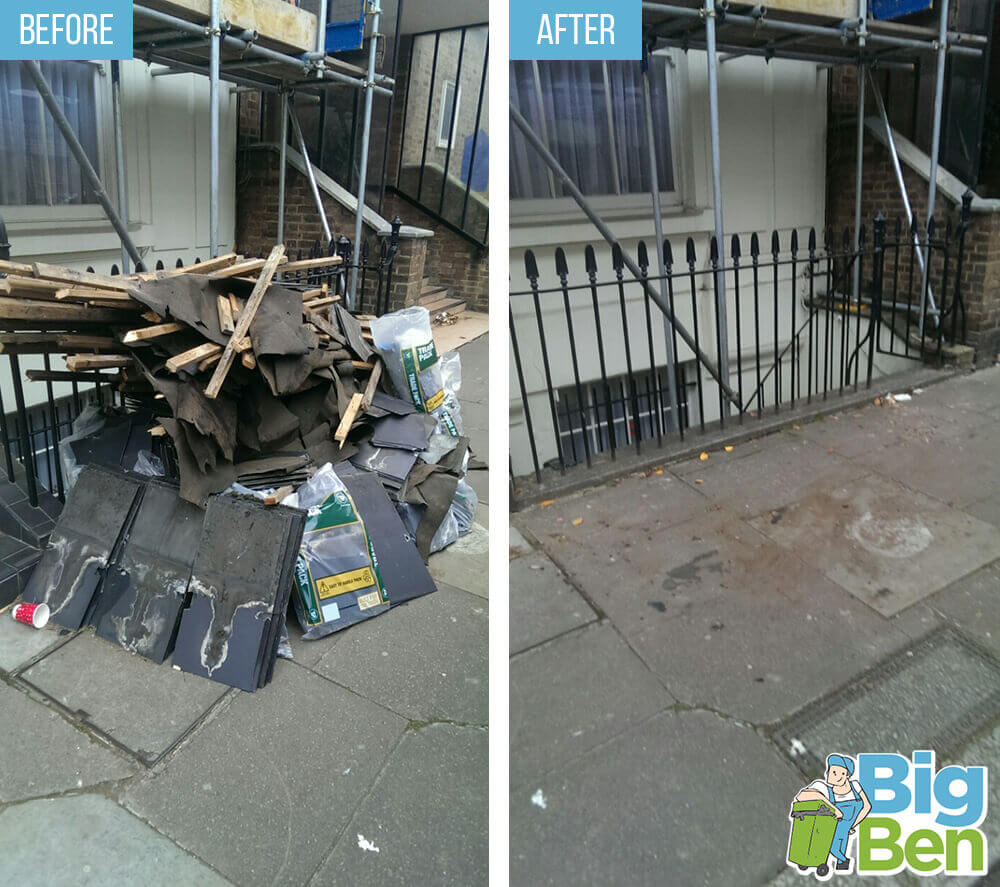 Big Ben delivers very effective waste removal services
Big Ben delivers very effective waste removal services to customers with all sorts of rubbish and a wide range of items that need disposing of. We deal with the disposal of agricultural waste in the messiest of forms, food waste no matter how old or rotten, rubbish bags and materials and sediment left behind by builders and any other items that have no practical use and are simply taking up space. If you call us on 020 3743 8686 and give us details we can tell you exactly how to make our commercial clearance services work for you and we offer a service for home owners and residential tenants to benefit from as well if they have too much rubbish to contend with, no means of transporting it to a refuse site and insufficient bin collections to get rid of it all.
Whether it's garden clearance or household rubbish
Whether it's garden clearance or household rubbish our specialists will be able to relieve you of it all and we can come to you in the mornings or evenings and during weekends if you need our help urgently. For businesses we work a flexible rota as we understand that you might not want us to get in your way when you need to trade. Our clearance services are available whenever you want them which is why we are so popular with commercial enterprises in the region.
Anything we remove from site is properly disposed of and we are accredited by many for our sensitivity to the environment. We give customers the peace of mind that we can obtain a clean bill of environmental health for them on site by removing all traces of rubbish and waste and we make sure it is disposed of in an eco-friendly form – with materials recycled and broken down, and anything re-usable passed on to a new owner.
Contact Big Ben on 020 3743 8686 to receive the best and most affordable waste removal and clearance services in the area. We work on the basis of an agreed fee which we will work out from the outset and our aim is to give you the best possible service you can imagine within your own specific budget. Our company can agree a quote with you over the telephone if you ring us today on 020 3743 8686 and we will stick to that price. Too many businesses add hidden charges once they have come to an agreement with a customer but we are straight as an arrow in that respect and won't add anything on later.
With staff able to reach any location and contacts with many reputable disposal sites, we can help you get rid of your rubbish today – just contact our company with details of what you need from us and we will bring our best staff and equipment to get the job done when you want it.


Our Testimonials
Jane Bellhaven
27/06/2019
I requested a quote to see how much it would be to book them to perform a loft clearance. We needed so much old furniture and other useless items from our home, so we could perhaps renovate it to rent out. Their quote was favourable, and their waste removal was as favourable. Highly recommended.
Top-notch office removals; their staff were well dressed, had good hygiene so fit into our environment very well during the move. Will use again.
Polite, neat and well-dressed workers. Will use this removal firm again.
Constance Drew
23/11/2019
We encourage you to seek out the waste removal services of this company, as they did such a stellar performance for us at our flat.
Their rates are reasonable, and their waste removal service is reliable. Highly recommended.
Great value for the waste removal they did! Arrival was prompt, and the workers polite.
Amazing waste removal company! Their team of two arrived and cleared the basement closets out in just under an hour!
Roberta Weiland
12/03/2020
I couldn't believe it! Same day waste removal! I contacted them in the early morning, and they were here by noon! Very happy as I've been trying to get rid of this clutter for the longest time!
I was quite happy to have had the pleasure of your good waste removal crews to our home. They performed splendidly.
Jillian Waterford
03/02/2020
After this weekend's waste removal event, we're definitely recommending your services! We had such a large amount of items to recycle or dump, that we've come to realize that the only way in future to tackle such a large amount is to use your services again!